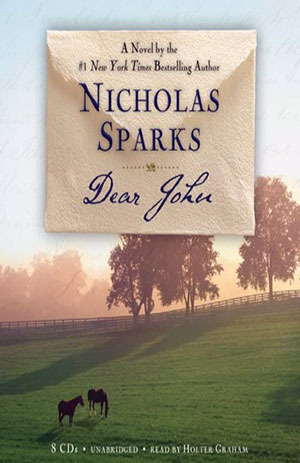 Pages
: 276 pages
Edition
: Hardcover
Language
: English
Publisher
: Warner Books
Source
: Purchased
Started
: 7th of August, 2014
Finished
: 8th of August, 2014
An angry rebel, John dropped out of school and enlisted in the Army, not knowing what else to do with his life--until he meets the girl of his dreams, Savannah. Their mutual attraction quickly grows into the kind of love that leaves Savannah waiting for John to finish his tour of duty, and John wanting to settle down with the woman who has captured his heart.

But 9/11 changes everything. John feels it is his duty to re-enlist. And sadly, the long separation finds Savannah falling in love with someone else.

Dear John, the letter read... and with those two words, a heart was broken and two lives were changed forever. Returning home, John must come to grips with the fact that Savannah, now married, is still his true love—and face the hardest decision of his life.

MY THOUGHTS
I'm glad I finally got to read a Nicholas Sparks novel. I mean, it's not The Notebook or anything, but it's Dear John and I really liked the movie so I was looking forward to finding out whether they had done the book justice. I must admit that the story of the book and the story of the movie is relatively different and that surprised me. And also kind of annoyed me.
John dropped out of school and then enlisted in the army because he just didn't know what else he has to do with his life. Then he meets Savannah, the girl of his dreams. They fall in love, but John has to go back and that leaves Savannah waiting for him to finish his duty.
I liked the premise of this story, the story seems good and kind of interesting to read. And I read it really fast before it just came to the letter. After the letter it just got sadder and I didn't know if I even liked it anymore. I wanted to finish it, but I also didn't want to finish it, because I knew it wasn't going to end well.
This book doesn't stop me from reading any other Nicholas Sparks book, because I have read more of the synopsis' and they all seem rather entertaining, but bittersweet. They seem cute and all and I like Nicholas Spark's way of writing too. This is what I have noticed in Dear John. So I'll definitely go read another one of his novels.
If you like romantic stories with a bittersweet taste, then this is definitely a book for you. If you enjoyed the movie, well be aware, because this book is totally different than the movie. If you've read this one, or any of his other novels, I would love to know which you would recommend me.