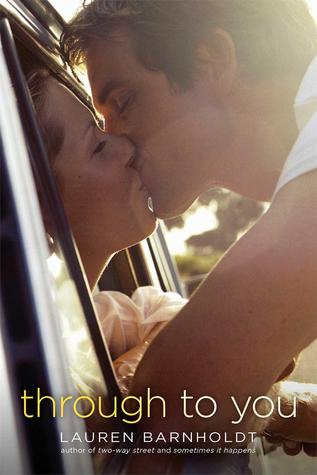 Pages
: 256 pages
Edition
: ARC
Language
: English
Publisher
: Simon Pulse
Source
: Edelweiss
Started
: 1st of June, 2014
Finished
: 1st of June, 2014
ADD TO GOODREADS
BUY AT TBD
Opposites attract—and then complicate—in this romantic, relatable novel from the author of Two-way Street and Sometimes It Happens.

It starts with a scribbled note in class: I like your sparkle. Harper had casually threaded a piece of blue and silver tinsel through her ponytail in honor of school spirit day. And that carefree, corny gesture is what grabs Penn Mattingly's eye. Penn—resident heartbreaker of the senior class. Reliably unreliable. Trouble with a capital "T." And okay, smolderingly sexy.

Harper's surprised by Penn's attention—and so is Penn. The last thing he needs is a girlfriend. Or even a friend-with-benefits. The note is not supposed to lead to anything.

Oh, but it does. They hang out. They have fun. They talk. They make out. And after a while, it seems like they just click. But Penn and Harper have very different ideas about what relationships look like, in no small part because of their very different family backgrounds. Of course they could talk about these differences—if Penn knew how to talk about feelings.

Harper and Penn understand their attraction is illogical, yet something keeps pulling them together. It's like a crazy roller coaster—exhilarating, terrifying, and amazing all at once. And neither knows how to stop the ride…

MY THOUGHTS
So I read this book in one afternoon. I was in a reading slump and I was just thinking: Hmm let me read an ARC because they're just sitting there anyways and for some reason I choose this one. And it was the right decision. I loved this one. It was adorable. It was cute. The only problem I had were probably the weird formatting in the ARC, but that was probably just the ARC and it didn't bother me at all. I still want a physical copy of this book and I definitely am going to check out more of Lauren Barnholdt's books, because this one was awesome.
This book switches between POV which I sometimes think is really annoying, but it worked in this book and surprisingly, it didn't bother me at all. I would have assumed that it was going to bother me. In this book we follow Penn and Harper. Penn leaves a note on Harper's table, at first innocently, not meaning anything behind it. But they grow closer. Penn doesn't really know how to talk about his feelings and he has lots of problems at home.
I loved the idea of this book. I loved how it wasn't like the typical reads. Lauren Barnholdt has a great way of writing, I figured this out now in this book. It got me hooked, I didn't want to stop reading. I love when books can captivate me.
Let's talk about the cover though. I like the cover. But I'm not a big fan of people on the cover. I do really like the font used for the title and the author. It works. It really does work.
I highly recommend this to people that are looking for a fluffy read and something that you can finish in a day or two. Through to You is a book that captivates you and that keeps you hooked until the last page.